Trigger – 16th-20th October 2017
16/10/17
Quite lucky to have this trip and it meant a week away from work just doing some caving….can't moan really. The first day was spent in the SRT hanger just practicing some long forgotten SRT skills which I didn't really have in the first place, but after a solid 5 hours of up/down a rope with all sorts of changeovers, passing rebelays, deviations and knot passing practiced we had a good solid base to work on the week. Especially for me as 'The Rope Mong' as I was soon to be known when I attempted a few rigging scenarios in the hanger…..yeah I wasn't asked to rig again.
After the practice, we packed the van with enough rope to circumnavigate Jupiter and set off for Clapham Bunkhouse at the foot of Ingleborough. Our home for the week.
17/10/17 SELL GILL HOLES
After an epic slap up breakfast supplied by the owners of the bunkhouse we packed the van and set off for the first cave of the week Sell Gill, A perfect cave for people like myself who have done vertical before but not very much and a long time ago.
After a 20 min drive we arrived and trekked up to the 2 entrances, first half of the day was to be spent in the dry fossil entrance. The first pitch was quickly rigged but as I was last to enter I had the joy of standing in the howling wind of storm Ophelia as she blew up the fell.
First pitch was easily done and nothing much to worry about, pitch 2 was a bit more free hanging with a deviation to pass but still….I quite enjoyed it. It appears so far, that my fear of heights has finally left me!
Pitch 3 yet again was easy enough apart from one of the lads screaming up ''my STOP isn't working…..'' turns out he was still hanging off a cowstail he had forgotten to unclip!
On the floor of the 3rd pitch we had a quick bimble down the stream way to the sump, not much to see apart from the other pitches we were about to descend once we had left the dry entrance and took a trip into the wet entrance ''Wet Goblin''
After a quick climb out of the dry side we repacked the ropes and entered the Wet Goblin, now this was more like it. Water gushing past whilst hanging off a traverse line on cows tails. Pitches met immediately with letterbox squeezes with drops either side. I really enjoyed this side as the water made things a lot more sporty and interesting. By the time we had reached the bottom again it was time for us to exit as we had been under a bit longer than planned so a quick turnaround and we were climbing our way out.
Now it certainly proved to myself by the end of the biggest pitch that I had to improve my prussiking technique as my arms were knackered and I was using them too much as opposed to my legs! The traverses were even more ''fun'' on exit due to slightly rising water levels just from a small shower whilst we was underground!  Overall a good day caving.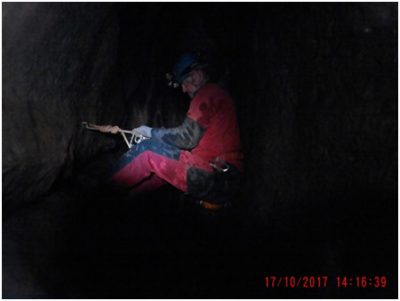 18/10/17 BAR POT TO GAPING GILL
Another day, another decent breakfast. Ropes packed but no minibus today as we could walk straight from our bunkhouse to the cave, albeit a long walk but scenic enough.
We arrived at Bar Pot and re-hydrated, shoving a few sarnies down our necks. We split into 2 mini groups with 1 going to Bar Pot entrance and the other going through Small Mammal pot to meet up at the Bar Pot big pitch. Both pitches we done in reasonable time and after a bit of crawling and thrutching we all met up and headed to the pitch. This was rigged by someone who wasn't a fan of heights so many a swearword was heard as he was hanging off his STOP on Cows tails looking down the 30+m pitch (not high in Yorkshire standards but enough for us!) a rebelay was rigged halfway down purely for speed on the exit so we could have 2 people on the rope.
After we had all descended we had another sandwich on the bottom, SRT kit ditched and headed off in the direction of Gaping Gill main chamber. A series of muddy crawls had to be passed, nothing major but just a bit of hands and knees kind of passage. Here is where I started swearing as I had left my kneepads back at home so this was the first part of the week where I had noticed how much I needed them sometimes.
It wasn't hard to find the main chamber….the draught was strong, very strong. But nothing was to prepare me for what I was about to experience. It's always been on my to-do list to enter that place one way or another. I was like a kid in a toy shop or a theme park,  I pretty much legged it in and headed towards to where the water was landing. Pictures were attempted but camera wasn't up to much but to be fair I just wanted to sip my water and take it all in. I hope one day to return, even if it's just on the winch.
Reverse route for the way out and we were all still buzzing on the surface and we decided to walk the to actual Gaping Gill entrance for a look. Back to the bunkhouse for food….and beer.
19/10/17 SWINSTO'S HOLE TO VALLEY ENTRANCE PULL THROUGH TRIP
Guess what I had for breakfast….you guessed it. I was looking forward to this trip after watching a clip on YouTube the night before and I was not going to be let down!
We entered in through a sink, nice wet and cold and are met pretty much immediately by a short pitch down a waterfall. Once again this is my kind of caving, crawling in water, noisy and cold. Without sounding too cliché, momentum has to be kept before hypothermia takes her hold.
Once past this pitch we started the ''Swinsto long crawl''…barely a crawl and not that long to be honest but enough for me to swear a few times due to lack of knee pads and icy cold water.
The crawl ended and a series of further pitches were met, great fun. Can't really explain that well how much I was enjoying this trip and it was going to get better as we approached Split Pitch. A rather large pitch and exceedingly wet but half down a ledge is met to walk across then carry on the descent down. Once at the bottom I looked up and thanked the 'cave gods of pull through' that I didn't have to prussik back up that!
Now it was onto The Cascades, which I can only describe as very OFDish style stream way but just not as black if that makes any sense. Could this trip get any better….yes is the answer as I marvelled at the Great Aven!
We pushed on and entered Kingsdale Master Cave on our way to Valley Entrance, splashing about we happened to notice the flood marks on the walls at least 5 or 6 feet above heads. Slightly chilling to think as there have been fatalities in this end of the cave.
We climbed out of the stream just before the sump and exited through a dry winding passage literally popping out of a dustbin lid in the bottom of the valley. I'm guessing passing cars would be used to this! Yet again another trip I would like to repeat.
Sadly no pictures but please YouTube the trip as my poor English skills and memory will not do this trip justice.
20/10/17 ALUM POT EXCHANGE TRIP
Final day and options were limited due to the huge amount of rain which had been dumped the night before and the water level was high. Alum pot was decided for all the teams to do as an exchange trip.
Rooms were packed away and all kit chucked onto the vans. Setting off on a stunning day, it was hard to imagine the rain of the night before, but the water gushing off the fells was a reminder. Once at Alum Pot we kitted up and walked to the fenced off area around the pot itself
Rigging began with our small group starting off at the South East Route, whilst another route went in through Long Churn and rigged Window Pitch and the Greasy Slab. Now the fun, a few guys set off before us down South East as they intended to get to the bridge and rig fully down to the bottom which they did. The guy before me suddenly decided he was petrified of heights again and had a bit of mental gap at the first rebelay perched some 40-50m up bless him. A CiC was called to assist him but in the meantime it meant I was stuck on the rope for 20minutes wondering what #### was going on at the belay below me!
To be fair it was a god send, yes I wasn't happy but managed a selfie and took in the sheer beauty of this pot especially with the amount of water crashing down. Look over towards Long Churn I could see the other teams rigging their way down towards The Bridge. Cavers everywhere!
Finally the ''Rope Free'' was screamed to me and I carried on down to the Bridge to meet the other teams for a quick high five and continue our way back up and out into Long Churn. Greasy slab was fun, like it says on the tin! Slippy! And it's not a free hang, more a shuffle and a scramble with jammers on whilst slipping around. I prusikked up Window Pitch and chilled out a bit by the Dolly Tubs pitch reflecting on a good week! Once everyone was back together we made our way via a very wet Long Churn and back to the vans for hand shaking and goodbyes!
What a week, I'm glad I did it as I was very sceptical about SRT, now feeling a bit more confident with it, but certainly need some practice at rigging before I return to Yorkshire once again.