Driving to Penwyllt on such a sunny day its hard to process that for the next few hours you are going to willingly go underground and descend a hill only to then walk back up it but classic trips are worth it.
We met up, had a quick chat with Brendan at the club who happily gave us the key and then we studied the survey.
Kit on we plodded our way to the top and by the time we reached OFD2 it felt like I had already sweat out a days worth of sweat! We quickly got into the cool and got started.
I lead the way to Maypole Inlet via the main routes stopping only at Gnome passage to get a picture with my new lamp on full (cheers Roy!) the route all seemed fairly familiar even though the last time I had been down Maypole was 17 years previous. We climbed down the free climb into the inlet itself and slid our way to the ladder where we stopped for another picture. As we approached the climb into streamway I said happily to Huw "at least it's not slippy" and within seconds all I could see was Huw very rapidly descending into the stream but luckily he managed to stop himself! I don't think ill tempt fate like that again this trip.
We made good progress down the stream way which was low but stunning nonetheless and arrived at the sump for a quick look, we then back tracked up-stream and jumped out at the Great Oxbow to by-pass the sump.
Jumping back into the stream from the oxbow we continued on our way at good speed enjoying the many potholes and plunge pools en route. There always comes a point where you just have to accept your legs aren't long enough and just enjoy the cooling water. After quite a lot of stream way the walls start to get pretty….very pretty and before you know you are in Marble Showers. What a place, never ceases to amaze me the beauty of OFD and hands down the best underground stream in the UK. We stopped for a water break and for some pictures.
Carrying on even further down stream we passed, on the right, the confluence for main and Cwm Dwr stream. We lost the stream soon after and ended up in Piccadilly. What a huge and amazing place to test out the new lamp and stop for a bit to eat.
We carried on and climbed up divers pitch which is a relatively if not ever so slightly exposed free climb with an in-situ old handline to aid. At the top we turned right into the crawls which would soon post us out of the Letterbox where obviously we had to take some pictures of the flat out backwards crawl leading to a sudden drop and a chain to assist climbing out. We had a quick scan and head down the slope underneath the Letterbox and into chokes for the way on. To say we had a quick navigational boo boo would be over exaggerating, we just wanted to spend bit more time in the lovely loose choke…..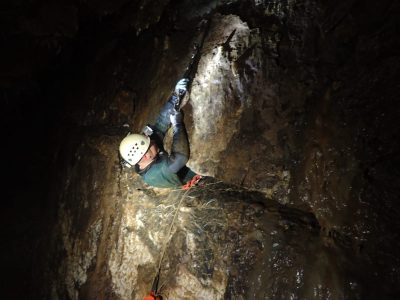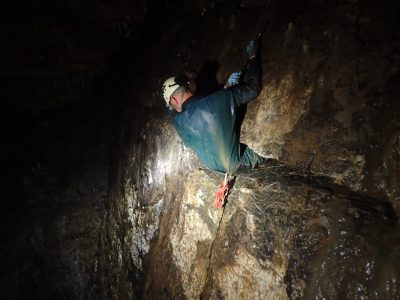 Once through Huw mentioned about going to visit Dip Sump, the point of many of the early dives into OFD2 itself from the bottom entrance long before the days of a dry connection and a top entrance.
All that was left now was to head towards the dry Breakthrough point and choke and make our way into OFD1 which took no time at all apart from pausing in the choke to admire the old scaffold that has substantially bent in the years gone by luckily now backed up with a new one!
We made our exit through OFD1 quickly only pausing to try to find Huw's glove which has been swallowed by the albeit dribble of a stream and also the standard swim in Pluto's bath.
We exited the cave after 4 and a bit hours to a raging hot day, good job we've got a hill to climb in our caving kit……….