Dave Trig Gledhill
Tom Williams
Adrian Burton.
So this would be my first trip into this cave, I'd never really thought much about it until I joined Brynmawr and heard a lot about it so I was pretty keen to do this trip. Tom suggested a generous call out time so we could really see the most and reach the end where it is, oh so close, to the beast of Daren Cilau next door.
The day started by meeting  Tom and Adrian in Asda car park nice and early where I followed them to the car park (layby) to start the age old caving discipline of getting naked in car parks. After a quick ''before'' shot we were off  to the entrance and after a quick faff with the gate we were in and straight away greeted with formations and straws! Through the first boulder choke, up the ladder we went and into a fun wet crawl (well I found it fun as my tackle sack *ahem* floated quite nicely behind me) which took minimal effort.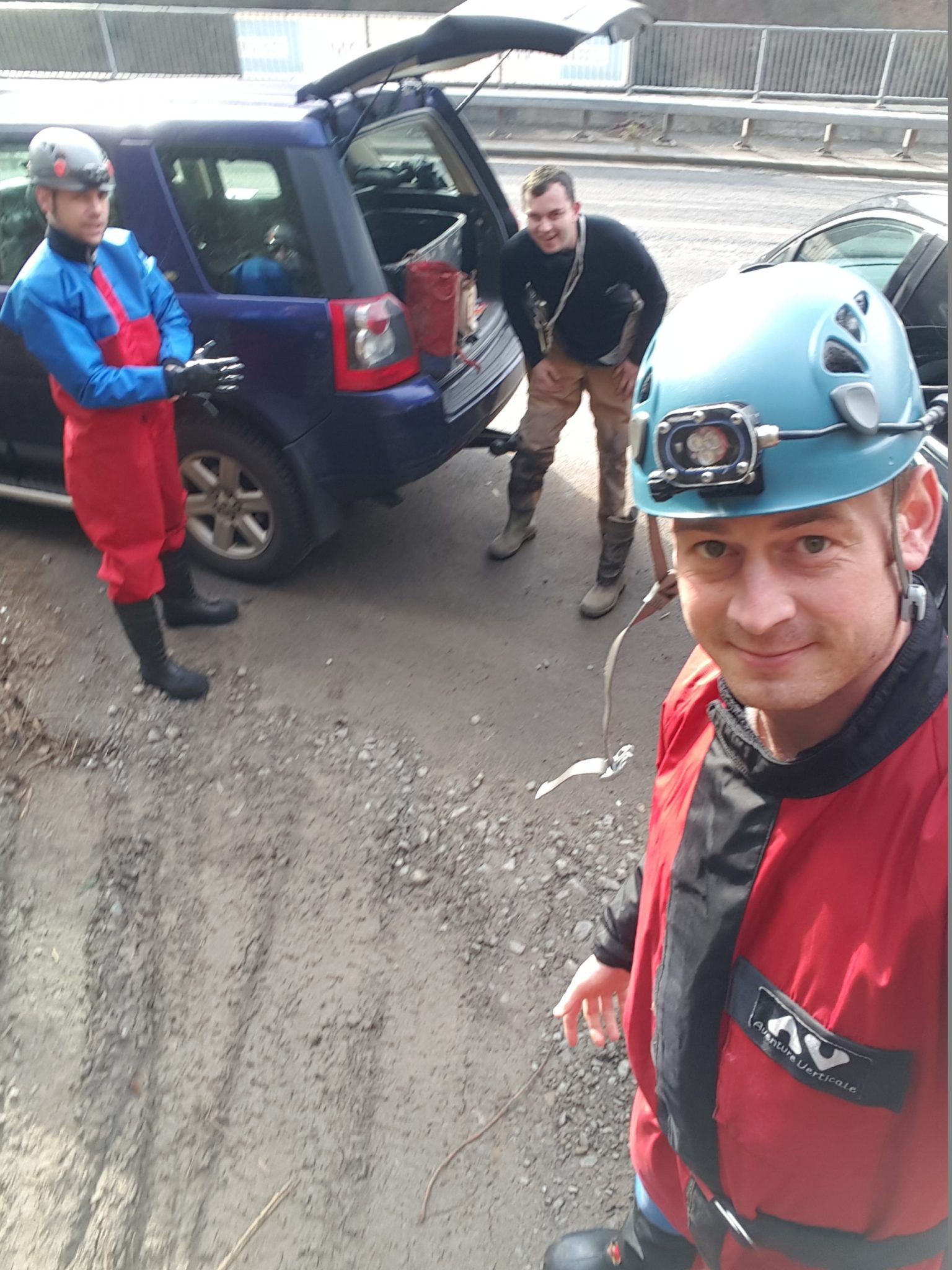 We reached a junction and I was shown the famous ''North West Inlet'' where we decided that could wait for a hot summers evening maybe. Continuing on, we approached two small pitches. One with a ladder and the other with a fixed handline but feeling slightly exposed at the top. This led straight onto the lovely 2nd Choke. Now this choke was slightly uncomfortable as it climbs and winds upwards but safe in the knowledge that  it could only be easier on the exit we pretty much flew up it.
Our heads poked out of the choke one by one like meerkats….relieved meerkats and we pushed on into ''Travertine Passage'' with its stunning Travertine Dams and formations. Stunning place! But the best was yet to come as next was ''The Hall of  The Mountain Kings''…..WOW what a place, I'd seen this in various books but nothing could prepare me for this place. Thank god for modern cap lamps which helped illuminate this place that day!
After a quick drink and the usual non-caving chat, we set off again to the right through the 3rd choke and on to ''Severn Tunnel'' a nice crawl where at one point many a larger caver has not been able to continue. This uncomfortable passage turns into stooping after 200-250m or so. Here my memory is failing me and all I can remember now is being at a large junction with boulder choke 5 and the pitch down into Promised Land. We dropped the bags off at this point and spent considerable time looking for possible leads which there is no doubt but just need finding or effort. We also went to visit the famous ''Helictite Passage'' a stunning  little passage but with amazing formations where only 2 cavers are allowed at once, now this is why this cave was so strictly controlled in its earlier days.
After a lot of admiration we carried on back to collect the bags and onto the pitch down into Promised Land where we met a small stream. The way on is right but we turned left to go and admire yet another formation in this cave, ''The Pagoda''. Back on track we made good progress hopping boulder to boulder and then turning right we entered an oxbow from the stream which had a few crawls and chokes to overcome before re-joining the stream. We carry on gaining momentum and then suddenly it ends. If only there could be a way on into Daren. We have a breather and drink/food and do the honest thing of turning around to go home to our families to treat them all with our muddy smiles and bruised bodies!
The way out is un-eventful and the 2nd Boulder choke is a breeze with gravity on your side.
In summary its certainly is a highly decorated cave and certainly can provide a good days caving. I cannot wait to return hopefully by the end of the year. No pictures underground sadly.
5 or 6 hours underground…I think.