Barry Burn
Tristan Burn
Tom Williams
Vicky Blüemel
Andrew "Zeb" Zerbino
With the aim of allowing Vicky and Tom to try out their newly aquired SRT skills, a suitable pitch was needed and so Will's Hole was settled upon.
It transpired that Vicky and Zeb were going to have some problem getting to Dinas Rock in the near future so Tom, Tristan and I continued on ahead to rendevous with Huw Jones, the club tacklemaster to pick up some club kit and then on to Dinas Rock find a completely packed car park. Luckily one van was leaving so we were able to squeeze Tom's Disco, change and head on upstream to the cave where we quickly entered and made the short way to the pitch.
There are a load of ancient spit anchors placed all over the pitch in Will's Hole, the majority of which are very dubious along with a piece of railway placed back from the pitch at floor level, the best of a bad lot were selected and the pitch rigged.
Tom was first off down the pitch followed by Tris and finally myself.
I'd love to say that Will's Hole is an amazing cave that should be on everyone's to do list, but I can't. It's a horrible, muddy dismal place and after taking some pictures, we were soon ready to head back out.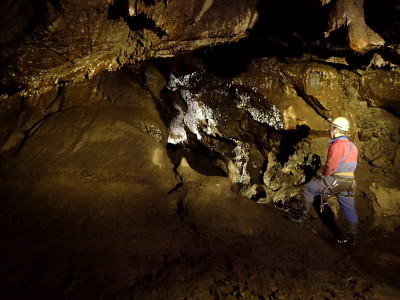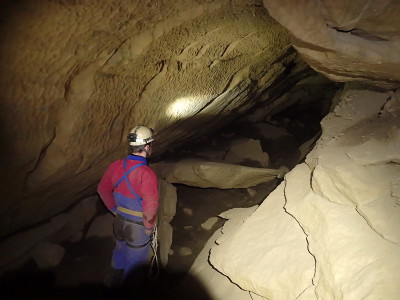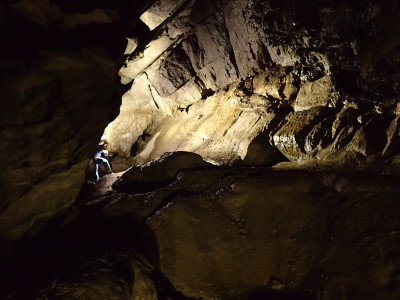 Just as we were getting to the pitch, we heard a "Hullooo" from the top. Vicky and Zeb had arrived. The three of us at the bottom headed up to meet them and to allow them to visit the muddy delights that awaited them.
Zeb and Vicky also didn't stay too long in the cave, just long enough for one of them to fall gracelessly into the mud taking the other with them. Then it was back on to the rope and back up and out.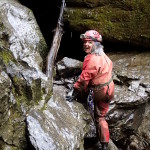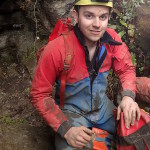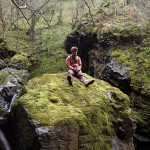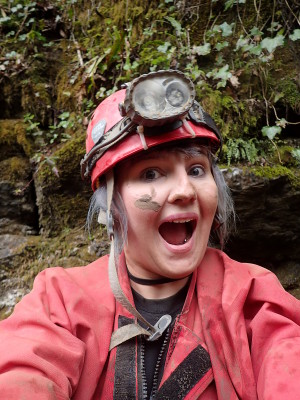 Will's Hole is not a great cave and as it is used quite a bit, could probably do with some P-bolts placed to ease the rigging. However, we did enjoy the visit especially for the chance for some SRT.