Sam Jones, Pete Jones, Paul Chilcott, Huw Durban, Huw Jones & Clive Westlake
By Pete Jones
Photos Huw Jones
Sam and I arrived to join Paul, Huw J, and Huw D at the SWCC HQ above Penwyllt. It was a damp morning, Y Brennin Llwyd was draped over the hill tops. After a quick chat, Huw J hatched a plan to enter the cave from the top entrance, have a look around the upper levels and bring back some equipment left in the cave after the rescue from the week before. Before heading up to the entrance we were joined by a spritely well-spoken old fella. Turns out he was Clive Westlake, the second person out of OFD top entrance in 1967, cave diver and cave photographer.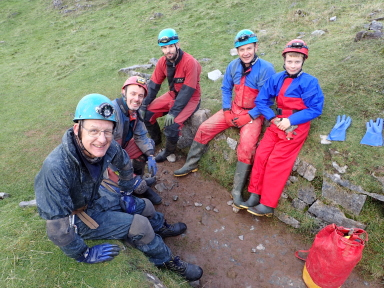 To be honest after entering and moving through Gnome Passage and Salubrious Passage to call on the Trident and Judge, I have no idea of our exact route. To a novice like me it was a maze of passages intersected with chambers, boulder chokes and stream ways. However, the names like Swamp Creek and Shatter Pillar stick in my head. The damp black limestones interrupted by calcite veins make it clear how the cave got its name. The formations are beautiful and the helictites are bonkers. At some point Clive disappeared only to reappear twenty minutes later, a welcome relief to Huw J who thought he'd lost a legend. I'll give it to Clive, for a gent who must be in his 70's he doesn't hang around and glides through the passageways.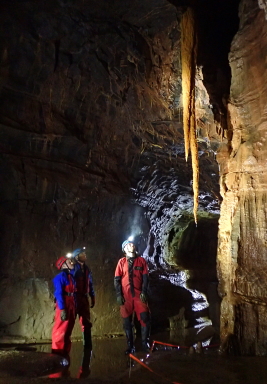 We eventually found some ropes left after the rescue and Huw D managed to palm off all the damp ropes on to another group, leaving us with a token dry rope to carry out. We emerged from the top entrance after three or four hours, I lose track of time underground. The sun was sinking into the west and the Bristol channel reflected the late afternoon light back.
Looking at the cave map back in the HQ, it was apparent we had only traversed a small fraction of the cave, which only increases my appetite to come back and explore the depths of OFD. A fantastic trip with great company. Thanks to Huw J and Huw D for leading the way.