Adam Knapp, David Gledhill, Huw Jones
By Huw Jones
Photos – Adam Knapp
Myself and Adam rendezvoused in Cardiff at some ungodly hour of the morning and I jumped into his Land Rover, which turned out to be a wise choice. We crossed the Severn Bridge and met Dave at the Gordano Services, on the M5 near Avonmouth. We all had a full English (some more full than others!) at the only place open at that hour – Harry Ramsden's! Then it was back on the motorway, Dave following behind, and on to the Mendip Hills.
It was a cold morning. In Cardiff it had been -2° and then 0° at the services. Driving down the M5 it rose above freezing but this was short lived and as we entered Cheddar Gorge, the temperature plummeted to -11°! Up on top of the hills it was like the Arctic, with lots of snow everywhere (there had been none up till now), including on the roads. I was glad I was in Adam's Discovery but Dave seemed to be doing just fine in his 2wd family Ford. We made our way through the lanes to the Wessex hut at Priddy, where it was -9°.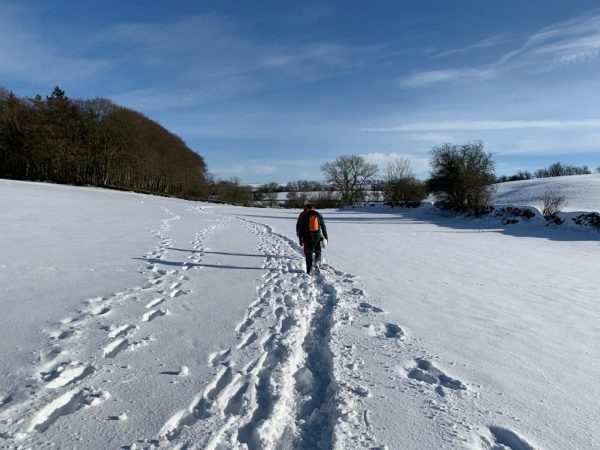 We parked up next to some other cars at the hut and I stepped out of the car into a two feet deep snow drift! Inside we met Tom and Maxine and a few others. Tom was going to be diving at Wookey Hole later and Maxine was going for a walk with others and then attempting to rescue her car from a snowdrift! After a cup of tea, we got changed and then I found out that my camera hadn't charged for some reason. Adam volunteered to take his I-Phone underground, to try his hand at cave photography for the first time – his photos turned out great!
The walk through the fields from the hut to Swindon's was breathtaking, not just because of the cold air(!) but because the views were tremendous, with everywhere blanketed in the deep, crisp, pure white snow. Underground, it felt much warmer as we made our way down the lovely, sporting streamway to the Twenty Foot Pot, where we rigged our ladder and lifeline. We carried on down and took in Barne's Loop, with it's curtains and stall flows. Disappointingly, neither Adam nor Dave fell into the Double Pots and we soon found ourselves at Sump 1. We had a brief discussion about diving through but given the temperature outside, we decided against getting completely soaked through. On the way out we climbed into Tratman's Temple, where Adam took photos of the fine formations. Leaving him to carry on taking photos, me and Dave had a quick look through the St. Paul's Series to the Mud Sump – which was sumped! Making our way back up the streamway, we avoided the formations in Barne's Loop by following the stream through the inclined rift which runs below. We'd only met two other groups underground. A group of two and another caver on a solo trip. The solo caver was just ahead of us and used our ladder to climb the 20. We derigged and all headed out together, before he left us behind not far from the entrance.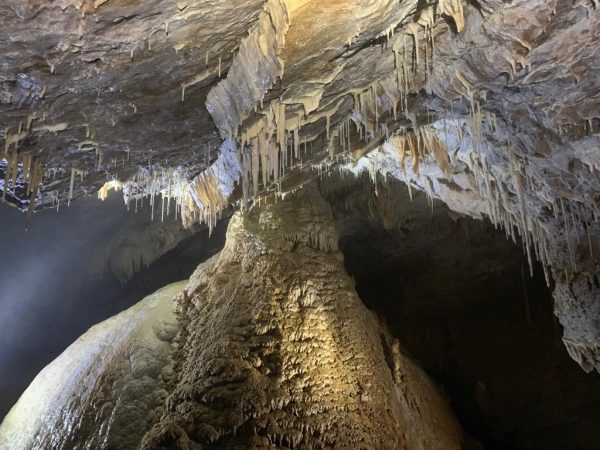 Outside, it was still a perfect winter's day. On the way back to the Wessex I jumped into a snow drift and rolled around to try to clean my suit – for future reference, it doesn't work. After a hot shower at the hut, we had more tea and ate the food we'd brought, before heading home. It had been a really enjoyable trip in the cave. Thank you to the Wessex for their hospitality and welcome and to Adam and Dave for a great day!