Dai MacDonald, Gareth Farr, Dave Gledhill
By Dai MacDonald
Photos Dave Gledhill
We met outside Whitewalls for roughly 9am. It was mine and Gareth's first trip to the Inner Circle, and our first with Trigger. As we pulled up there was two Shetland pony's trying to scrounge snacks from anybody that was willing to give up their lunch. We got chatting to another couple of cavers who were off into Aggy as well.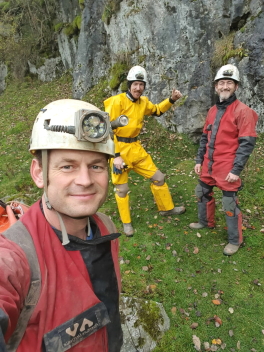 We made it into Aggy for about 10:30, and made good time through the entrance series to Barons Chamber. We all emerged from the First Boulder Choke hot and sweaty, so we stopped for a drink and a quick look at the survey. We carried on along the main passage until we met the streamway junction on the right, and made our way to the 2nd Boulder Choke. We had cooled down a lot by this point and we were making good progress. The traverse was really slick, so we all kept a firm grip of the hand rope. Next we were onto the two short climbs, the first drop down was pretty easy, about 2m, and the second was more of a swing around a corner. After the North West Junction it was onto Turkey Streamway and to Turkey Pool for a good soaking, no surprise it was cold! We were fine though, we still had ground to cover, so we kept moving. The trip was faultless through Hawkins Horror, Sand Caverns and into Selenite Needle Passage. Trigger mentioned that it's Selenite Needle Passage that left him wandering up and down Sand Caverns before, so I think the entrance is firmly printed in his head now. Once we'd gotten into the Inner Circle Trigger headed off on his own just to double check the route, and Gareth and I used the chance to have a quick drink and snack before Trigger got back, and when he did he was still unsure if we were in the right place, so we headed off together, and it turned out we were in the right place. We followed the Inner Circle anti-clockwise until we got to Swiss Passage, where we stopped for a few photos, then onto the Dome of St. Paul's. Once back around to the beginning of the Inner Circle, we stopped for some snacks and a drink before heading off again. I felt a little chilly as we started walking again, but soon warmed up.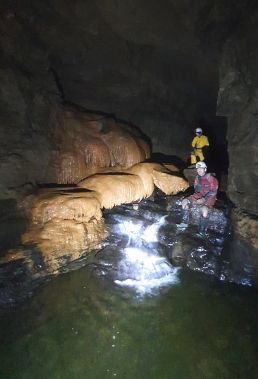 All in all the trip went really well in and out. We met the other cavers, that we'd spoken to in the morning outside whitewalls, just after coming back through Hawkins Horror, some cheerier than others. We got out of the cave for roughly 1630, so a great 6 hour trip.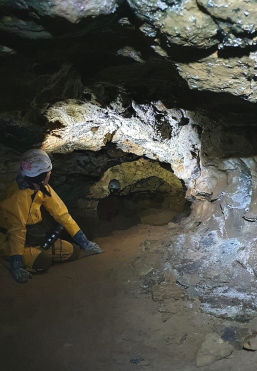 This trip was really good caving, with no huge amounts of crawling or squeezing, mainly a lot of wide open passages, and although it's not the most decorated cave, there's still more than enough to keep you stopping for a look every so often. As well as actual calcite and selenite formations, the scalloping throughout this trip is absolutely gorgeous and not to be forgotten!